UK-based manufacturers, BiocareUV, discuss their Far UVC solution created to tackle harmful pathogens, viruses, and bacteria in minutes.
As the world struggles with the aftermath of the COVID-19 pandemic, scientists warn that deadly outbreaks of other viruses are inevitable. History has made this quite clear: over six deadly influenza pandemics and epidemics have destroyed the lives of millions of people in just over a century. Viruses like Ebola have spilled over from animals about 25 times in the past 50 years and at least seven coronaviruses, including SARS-CoV-2, have brought illness and death.
Western perceptions of pandemics went from a feeling that such things were from deep history to the grudging acceptance of lockdown, and finally, a hope that the worst is now behind us. Complacency though is all too evident with the general public, tired of restrictions threatening their quality of life to the point where we are all more prepared to take risks, risks which do threaten actual life.
Credit Bill Gates for stating that the most important war people face is the war with germs. But as Professor of Biology, Paul W. Ewald foresaw, we prefer not to accept the likelihood of an influenza pandemic with the kind of lethality of the 1918 Spanish flu. It is simply inconvenient to accept the possibility and react accordingly. To be proactive in preventing disease transmission, Ewald refers to the requirement for a "decisive technology."
The answer lies in a tranche of new technologies and new behaviours. Even though we espouse the potential benefits of Far UVC, our view is that our products will become more ubiquitous and accepted only in time. There is little residual doubt among the scientific community as to the efficacy and safety of the 222 nanometres (nm) wavelength in the germicidal role for occupied spaces, but we recognise that public acceptance of UVC exposure may be a little longer in coming.
How does UVC work?
Ultraviolet radiation covers the wavelength range between 100-280nm and has a known germicidal (bacteria and virus inactivating) effect. UVC radiation is already a well-established technology for the destruction of bacteria and viruses, being employed widely across multiple industries, such as healthcare and food.
Most UVC disinfection systems currently use wavelengths between 240-280nm, with 254nm being the most prevalently used. Unfortunately, exposure to 254nm has been shown to cause damage to skin and eyes in humans, and therefore cannot be employed as a solution for the inactivation of bacteria and viruses in public spaces when people are present.
However, recently published scientific studies have shown that a different wavelength of UV light at 222nm, when properly filtered, has the same bacteria and virus inactivating ability of 254nm UV, without damage to skin or eyes. This new-to-market Far UVC (200-235nm) technology can therefore be a bacteria and virus-inactivating solution, both airborne and surface-based, that can be deployed in public spaces while people are present.
This Far UVC at 222nm wavelength is the technology we utilise in our products.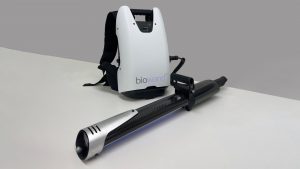 "The prevention of a future pandemic may not be possible, however, being prepared is!" said Mike Humphreys, Director of BiocareUV.
BiocareUV is a UK-based company producing Far-UVC products for use in all sectors. Whether it be to safely sanitise hospitals, dental surgeries, airports, emergency vehicles or offices, BiocareUV products destroy all known pathogens, bacteria, and viruses on both the surface and in the air.
Recent BiocareUV product trials have been undertaken in hospitals and dental surgeries, transport and the education sectors and have shown that the products are without a doubt doing what they have been designed and manufactured to do.
"We recently installed an array of our BioTILE systems into the High Dependency Ward at Ninewells Hospital in Tayside as part of the SBRI (Small Business Research Initiative)," said Adrian Leatherland, Product Development Manager at BiocareUV.
The Scottish-Government-funded Small Business Research Initiative (SBRI) competition has supported several projects through the Chief Scientific Office (CSO) with additional contributions from Transport Scotland.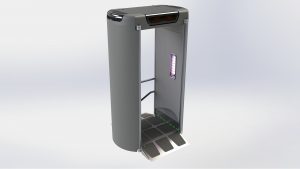 "The aim of the SBRI is to research and develop solutions that aid prevention or reduce the spread of droplet and airborne biological hazards, reduce NHS staff reliance on single-use disposable PPE, and allow the return of clinical procedures which are currently considered high risk because of their aerosol generating nature," explained Adrian.
The Test Bed environment is provided by NHS Tayside and should bring expertise from technical, clinical and support areas in order to consider and evaluate a potentially broad range of available solutions.
"BiocareUV's specific challenge is to offer potential solutions for air and/or surface decontamination which will reduce the infection risk in an occupied area and the need for PPE to be worn."
Knightsbridge Dental Care in the heart of London is one of the most exclusive and finest dental care practices in the UK. With over 60 years serving the community, it is the longest established and highest Google-rated general dental practice in the area.
The safety of the general public and staff is of utmost importance and with the recent pandemic and the potential of future superbug rises, now was the time to act.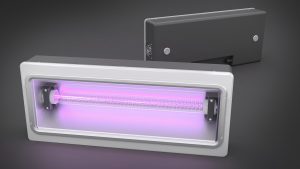 The installation consists of the BioTILE arrays being fitted into the decontamination room, the reception and all three surgeries. The system controls the lights so that they are at a safe duty cycle when the rooms are occupied but goes to maximum disinfection power when the spaces are unoccupied which enables the rooms to be disinfected much faster between appointments. This ensures that the room is completely decontaminated of all viruses and bacteria, making it safe for the staff and patients.
New disinfectant technology can be a money saver
This technology is not only amazing for the staff and patients visiting the practice, but it also comes with huge financial benefits. The need for liquid sanitisation has now been taken away, meaning that electrical equipment is safe, and the time needed to sanitise rooms has been drastically reduced. There is a much lower chance of staff absences due to sickness, as any germs that may be taken into the areas will be destroyed.
The fallow time for sanitisation is drastically reduced, from up to 20 minutes depending on the room, to just a few minutes using the Far-UVC tiles. This means there will no longer be large gaps between appointments and reduces the patient wait time. Assuming that a single surgery room is utilised for eight hours a day, with 30 minutes allocated to each appointment, then a 20-minute fallow period would allow 10 appointments per day. Drop the fallow period to five minutes and the number of patients seen per day increases to 13.
Over a period of one working week, that equates to 15 more patients or up to 780 over a year. The cost and patient benefit in that fallow time reduction are essential for practices.
The BioTILE consists of dual-use, retrofitted LED lamps which integrate with your current ceiling lights and automatically sanitise public spaces throughout the day.
The BioWAND is a handheld, everyday device. The unit is carried on the user's back and the user moves the BioWAND over the desired area, safely sanitising the area and killing all viruses and bacteria. The wand is ideal to get into hard-to-reach areas. Designed for easy use, with little training, rapid, dry, environmentally sound sanitisation, for most of the public, this will likely be their first contact with UV-based solutions.
The BioPORT is a large walk-through gate which actively decontaminates people on entry, deactivating both airborne and surface-based pathogens.
Finally, we have the BioLUME, this lamp unit fits into high ceilings. Capable of inactivating 99.9% of pathogens, including COVID-19, within an occupied room in seconds.
After spending years developing the software and products to guarantee effectiveness and safety, BiocareUV has now received numerous certificates of standards. The products are CE and UKCA marked; the scientific and government support behind the research has been incredible and the future of Far-UVC sanitisation is now upon us.
The public deserves nothing less. If they can learn to accept Far UVC as an everyday part of the cleaning of their work and travel spaces and are reassured that their output contributes to the safety of their environment, then Far UVC will become at least one of a range of decisive technologies that might just ensure that we do not sleepwalk into the next pandemic. Who knows, the next event may just be closer than we would like to think.
"I do not want to live in a world where another pandemic can occur at any point. So the idea about installing a Far UVC light is that, had they been present at the start of COVID, it would not have had the global impact that it did have," said Dr David Brenner, Director at Columbia University Medical Center.